with organic alpine plants
With the onset of cold, humidity, and wind during autumn and winter, our body becomes more vulnerable and fragile.
With the PASTILLES DES ALPES, discover Swiss alpine plants which are combined with zinc that helps maintain a strong immunity.
Natural properties and plants
Combination of acacia gum, zinc, and 4 extracts of alpine plants and fruits, specially selected to help you during the entire winter period.

 Lemon thyme


 Elder


 Aronia


 Edelweiss (cultivated)
Metal boxes of 30 lozenges 
Also available in refill bags of 40 lozenges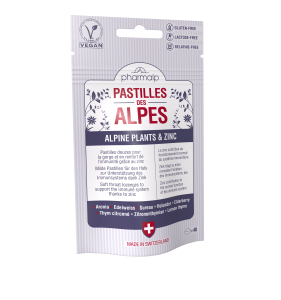 Food supplement to suck, combining swiss alpine plants (Lemon thyme, Elder, Aronia and Edelweiss) and zinc.
List of ingredients: Gelifying agent: gum arabic; Matrix agents : maltitol, sorbitol; Water; Extracts of: Thymus x citriodorus 0.6% (aerial parts), Aronia melanocarpa 0.6% (berries), Sambucus nigra 0.3% (berries) ; Leontopodium alpinum 0.3% (aerial parts); Natural aroms; Acidifying agent: citric acid; Zinc gluconate; Coating agents : coconut oil, carnauba wax; Sweetener : sucralose.
Gluten-, lactose- and gelatine-free. Vegan-certified product.

Adults and children > 6 years: 5 pastilles to suck per day, for 6 days.
Children < 6 years : 3 pastilles per day.
This food supplement cannot replace a varied, well-balanced diet and a healthy lifestyle. Do not exceed the daily-recommended dose.
Excessive consumptions may produce laxative effects.
+ Pastilles 100% made in Switzerland, for the entire family, and convenient to carry it everywhere with you !
+ Pharmalp works towards the plants, with certified organic mountain farmers in Switzerland
+ Contains zinc, beneficial for the normal functioning of the immune system
+ Certified vegan
+ Available in metal boxes or refill bags

+ Stay in contact with the mucous membranes for a long time, do not disintegrate in the mouth